"Carlos Santana's Band's Gear (2002)"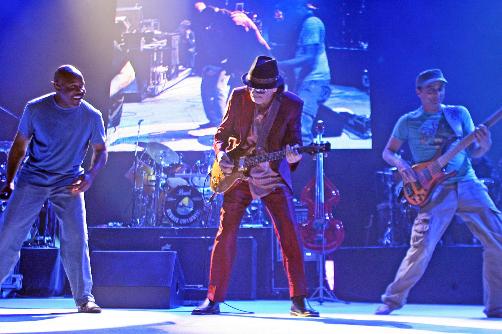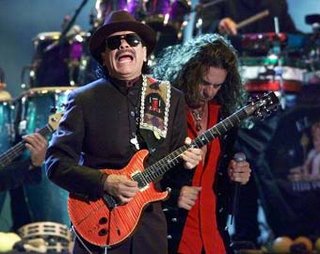 Carlos Santana: guitar
Paul Reed Smith Santana model guitars (3)
Alvarez-Yairi CY127CE nylon-string acoustic
Mu-Tron wah pedal
Ibanez Tube Screamer
Jim Dunlop customized selector box
Dumble Overdrive/Reverb amp head
Mesa/Boogie Mark I amp head
Fender Cyber Twin amp
Motion Sound AR-112 rotary guitar amps (2)
Mesa/Boogie 1x12 cabinet
Marshall 4x12 speaker cabinets with Celestion G12M Greenback speakers
Brown 4x12 cabinet with Tone Tubby Speakers
Hammond B-3 (chopped by Bill Beard)
Leslie 145 (customized)
Dynacord Leslie simulator
Yamaha Motif keyboard
E-mu E4K keyboard
Kurzweil K2000R
Korg 01W R
Roland JV-1080
JL Cooper MIDI patchbay
Soundcraft Line Mixer
Morley volume pedal (6 in-6 out)
Yamaha stereo volume pedal
Peavey monitor cabinets (2) w/JBL speakers
Peavey 1/3-octave graphic EQ
Peavey CS1200 power amp (lows)
Peavey CS800 power amp (highs)
Benny Reitveld: Bass
Ibanez BTB 1000 (4-string), BTB 1005 (5-string) basses
Azola Baby Bass
Line 6 DL4 Delay Modeler
EBS OctaBass
BP200 Digitech
Jim Dunlop Bass Switcher (customized)
Eden WP-100 Navigator preamp
Eden WT-1000 stereo power amp (2)
Eden D-410 XLT 4x10 cabinets (2)
Dennis Chambers: Drums
Pearl Master Series maple drums:
22" Bass Drum, with EMAD bass drum head
Pearl 14"x 6" Classic Wood Snare with Evans G2 heads
10" x 8", 12" x 8", 13" x 9" and 14" x 14" toms with Evans G2 heads
16" x 16" and 18" x 18" floor toms with Evans G2 heads
20" x 16" gong drum with Evans G2 heads
Zildjian K cymbals with Slick Nut cymbal holders
22" Ride
20" China
18" Dark Crash
17" Dark Crash
16" Dark Crash
K Master Work 14" Hi Hats
Dennis Chambers signature drum sticks
Pearl Double Bass Drum Pedal
Raul Rekow: Percussion
LP Galaxy Quinto, with Remo Fiber Skin heads
LP Galaxy Congas (2), with Remo Fiber Skin heads
LP Galaxy Tumbas (2), with Remo Fiber Skin heads
LP Wind Chimes
LP Shells
Remo 20" Djun-Djun with Remo Fiber Skin heads
Sabian Sheet Gong
Vater Wood Mallets
Karl Perazzo:
1 LP Galaxy Fiberglass Conga with Remo Fiber Skin heads
1 LP Galaxy Fiberglass Tumba with Remo Fiber Skin heads
2 LP Galaxy Fiberglass Bongos with Remo Fiber Skin heads
2 LP Tito Puente 14" & 15" timbales with Remo Fiber Skin heads
Assorted LP Hand Percussion
Sabian Cymbals:
18", 16", and 14" El Sabor Crashes
12" Hand-Hammered Regular Hats
16" AAX Chinese
18" Hand Hammered Thin Chinese
6" AAX Splash
8" AAX Splash
Slick Nut Cymbal Holders
Remo 12" Mondo Snare
Vater Drumbale Sticks
Myron Dove: Acoustic Guitar, Piccolo Bass
Modulus Piccolo Bass (4-string, played as a rhythm guitar)
(2) Framus Ruby Riot amps (one with Celestion Green G12N speaker, one with Celestion Vintage 30 G12.)
Yamaha SPX900
Behringer FCB1010 MIDI Controller
Boss DD3 Delay
Vox Wah
DigiTech X-Series Main Squeeze compressor
Summit TD100 tube direct box
Taylor NS72-CE nylon string acoustic
Taylor 614-CE steel string acoustic
Bill Ortiz: Trumpet
Martin trumpet (customized by Dick Akright)
Shure Beta 98 H/C (wireless)
Jeff Cressman: Trombone
custom-built Steven L. Terry trombone
w/Bach mouthpiece
Shure Beta 98 H/C (wireless)
Andy Vargas: Vocals
Shure Beta 58A wireless mic
Tony Lindsay: Vocals
Shure Beta 58A wireless mic
Thanks to Mike Keifer, Ed Adair, Stubby, Brian Montgomery, Davey Crockett, and David Trouse from Santana's crew.
"SANTANA INPUT LIST 2002"
| | |
| --- | --- |
| Input | Mic |
| 1. kick | Shure Beta 52A |
| 2. snare (top) | Shure SM57 |
| 3. snare (bottom) | Shure SM56 |
| 4. hi-hat | AKG C 460 B |
| 5. rack tom 1 | Shure SM98 |
| 6. rack tom 2 | Shure SM98 |
| 7. rack tom 3 | Shure SM98 |
| 8. floor tom 1 | Shure SM98 |
| 9. floor tom 2 | Shure SM98 |
| 10. floor tom 3 | Shure SM98 |
| 11. gong drum | Shure Beta 52A |
| 12. ride | Shure SM98 |
| 13. overhead stage right | AKG C-414 B-ULS |
| 14. overhead stage left | AKG C-414 B-ULS |
| 15. timbale (high) | Shure Beta 56A |
| 16. timbale (low) | Shure Beta 56A |
| 17. cowbells | AKG C-414 B-ULS |
| 18. congas | Shure SM98s |
| 19. bongos | Shure SM98 |
| 20. overhead 1 | AKG C-414 B-ULS |
| 21. overhead 2 | AKG C-414 B-ULS |
| 22. djembe | Shure SM56 |
| 23. conga 1 | Shure Beta 56A |
| 24. conga 2 | Shure Beta 56A |
| 25. conga 3 | Shure Beta 56A |
| 26. conga 4 | Shure Beta 56A |
| 27. surdo | Shure SM91 |
| 28. chimes | Shure SM81 |
| 29. bass pedals | DI |
| 30. bass | Avalon Tube Direct DI |
| 31. Leslie (low) | Shure Beta 56A |
| 32. Leslie (high) | Shure Beta 57A |
| 33. keyboards (left) | DI |
| 34. keyboards (right) | DI |
| 35. Mesa/Boogie (front) | Shure KSM32 |
| 36. Mesa/Boogie (rear) | Shure KSM32 |
| 37. Marshall | Shure KSM32 |
| 38. Brown | Shure KSM32 |
| 39. Carlos acoustic | DI |
| 40. Myron acoustic | DI |
| 41. trumpet | Shure Beta 98 H/C (wireless) |
| 42. trombone | Shure Beta 98 H/C (wireless) |
| 43. Chester Vox | Shure SM58 |
| 44. Carlos Vox | Shure SM58 |
| 45. Tony Vox | Shure Beta 58A (wireless) |
| 46. Andy Vox | Shure Beta 58A (wireless) |
| 47. Karl Vox | Shure SM58 |
| 48. Myron gtr L | Sennheiser MD409 |
| 49. Myron gtr R | Sennheiser MD409 |