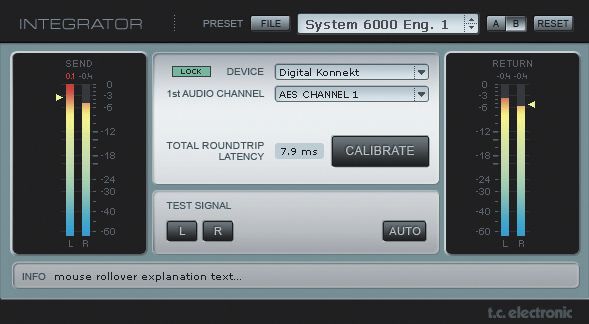 TC Electronic is now shipping the Digital Konnekt x32, an all-in-one digital patchbay, format converter and FireWire audio interface, for integrating digital outboard effects units and keyboards with modern digital audio workstation-based studios. It streets for around $1500.
---
"Konnekt 6 Audio Interface"
Hands-On Review: T.C. Electronic Konnekt 6 Audio Interface
A desktop interface that lets you focus on performance
By Darius Van Rhuehl
Musicianís Friend Staff Writer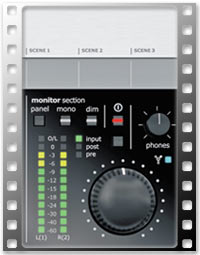 Finally, a DAW front end from T.C. Now my Finalizer can go back to the end of my recording chain on the stereo bus where it was originally intended. You see, a few years ago I bought the T.C. Electronic Finalizer Plus for mastering, but discovered that its converters sounded better than the dedicated ones I had unfortunately purchased for my DAW front end. So, rather than sitting on the stereo master bus, itís been the front end of my DAW. Now with T.C.ís Konnekt series of audio interfaces, I can have T.C. sound quality at both ends of my signal chain. So can you.
On your 6
Because T.C. makes gear used at the highest levels of the music and film industry, youíre going to find professional touches in their budget-priced, 24-bit/192kHz FireWire Konnekt 6 that you wonít find in most units built for home recording. For example, the Dim switch, which brings down the level of the mains (adjustable via software), is handy for monitoring at low levels or talkback with an artist. Even its metering is more than the usual eye-candy you find on other interfaces. A high-resolution, 12-segment LED meter, it can operate in three modes: input, output, and mastering. It also enables you to set hold time and fall time. Plus, within easy reach, you have a big volume knob with LED level indicators. Youíll really appreciate this one (as will your neighbors) if youíve ever accidentally blasted unmuted signals through powered monitors.
Another issue that T.C. has admirably addressed, which has proved to be annoying on other interfaces, is the software control panel that provides channel faders, sends, metering, panning, reverb controls, and more. The 6 has a hardware button that hides or brings up the panel, so you can make your adjustments without having to play whack-a-mole with host software edit and mix windows.
Pro sound quality is courtesy of T.C.ís highly respected IMPACT preamp, which offers crystal-clear, transparent, and spacious sound. And phantom power lets you use a high-quality condenser mic. Donít get me wrong, just because a preamp has phantom power doesnít mean that you can use any professional mic. For example, Iíve heard people complain that their Shure SM7 (which Bruce Swedien used for vocals on Michael Jacksonís Thriller) couldnít be heard through their desktop interfaces. Thatís to be expected. The SM7 is a low-sensitivity dynamic mic that puts out a very low voltage (phantom power isnít going to help you here). The type of preamp you find in most desktop interfaces simply wonít have enough muscle to do the required lifting. Thatís where the 6ís 12dB boost switch comes in, so no mic is off-limits.
Yet another pro bonus is the collection of M40 Studio reverbs. You can use them for a vocal cue mix without printing to disk, or as VST/AU compatible plug-ins for mixing. Keep in mind that T.C.ís reverb algorithms are among the very best, and the reverb found on the Konnekt 6 sounds like high-end hardware reverbs. I tell you that from first-hand experience. Iíve worked in studios that use T.C. gear and I know what it sounds like.
T.C. has also done considerable thinking outside the box. For example, what happens when you outgrow your 6 and need more I/O? Rather than taking a hit on your present interface, T.C. NEAR compatibility lets the 6 work with any other Konnekt series interface. So, you really are adding I/O and not trading off, since T.C. doesnít cut corners on their preamps and conversion. In fact, the 6 includes the same digital clocking and jitter elimination as their industry-benchmark M 6000 hardware processors.
The right Konnektions
The Konnekt 6 is arranged like a mini mixer/master section of a console. On the rear panel, you have one XLR input and two 1/4" inputs that can function as separate instrument DI's or as a stereo pair. There are also balanced 1/4" stereo outputs. On its rather attractive top panel (okay, not as hot as Cylon Number 6, but attractive nonetheless), you have hands-on control of input gain, reverb level, input monitoring, and three scene buttons, that are of particular interest. Scene 1 selects the mic and an instrument input, Scene 2 selects dual instruments and handles them as individual signals, with separate gain controls. This scene is particularly useful if you want to record guitar and bass simultaneously. And finally, Scene 3 is good for a stereo signal, such as a keyboard. The beauty of this setup is that you donít have to change instrument routing. You can leave your microphone and instruments connected to the three recording inputs and select among them using the scene buttons.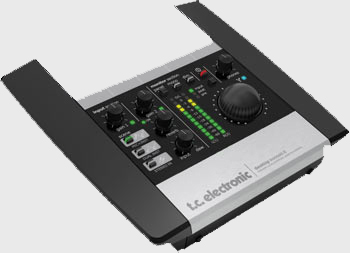 TC Electronic Desktop Konnekt 6 FireWire Audio Interface
Normally, I have fear and loathing when it comes to installing software on my computer, especially when it fills my hard drive with useless stuff. Installing the software for the Konnekt 6 was as simple and painless as could be. In fact, during the installation, the professional thinking inherent in the 6 becomes apparent. Rather than loading your hard drive with software for units you wonít be using, the Konnektís installation window tells you what is mandatory and lets you select only the Konnekt model you have.
Once set up, I found that Logic Pro had no problem finding the 6. However, I felt that it integrated better with the included Cubase LE software. In fact, having used all the major DAWs professionally, Iíve settled on Cubase 4 as my main platform. That said, the sound quality of the 6 was undeniably stellar. The available controls certainly streamlined the recording process, particularly the panel switch and scene buttons. (If T.C. decides to make a pro-level control surface-interface, they can put me down for one right now.)
I want to 6 you up
If you want top-quality sound but donít want to pay for inputs youíll never use, the Konnekt 6 is your answer. Plus, it incorporates features and functionality that has quite frankly been missing from much more expensive interfaces. More to the point, T.C.ís converters are among the best out there, and anytime you can have T.C. as your DAW front end, I suggest you do so. The addition of T.C.ís studio-quality reverbs is certainly icing on the cake (and weíre talking the really good icing, not that buttery-flavored stuff), but even more appealing is the ease with which you can get around on this unit, and how much functionality theyíve packed into its tiny and very attractive form. Think about it: a budget-priced interface with pro features and sound born of world-class studio technologyóhow can you go wrong with that? Short answer: You canít.
Features & Specs
Big volume control knob
High-resolution meter
Tracking reverb level control
Direct monitor control with input/DAW control
DIM switch for convenient speaker dimming
Instant scene recall
IMPACT mic preamp with 48V phantom power
24-bit/192kHz sampling rate
Balanced stereo outputs
True Hi-Z guitar inputs from T.C.ís high-end guitar processors
Headphone out with separate level control and source
Studio-quality reverb
Reverb available for monitoring or mixing as VST or AU-compatible plug-in
Hall, Room, and Plate algorithms
T.C. NEAR compatible: works with all other Konnekt products
FireWire 1394, bus powered
DICE digital interface chip
JetPLL jitter-elimination technology
Low-latency drivers for Mac and PC, WDM, ASIO, and CoreAudio
Cubase LE4 included
Record your music with world-class T.C. Electronic sound, effects, and professional features. Order your Konnekt 6 .